前世情人的情人
Like Father, Like Daughter
曾捍衛自由戀愛的兒子文德,現在成了父親。擋不住三姑六婆的糾纏,他被逼得上門關心女兒的情事,卻意外遇上同婚專法通過的日子。家中女兒和女友正為求婚成功而慶祝,文德該如何面對新世代愛情觀的挑戰?
Wen-de, a staunch defender of marrying for love in his youth, is now a father. On the day Taiwan passes its same-sex marriage law, he finds himself being hounded by local women trying to introduce a marriage partner to his daughter. Meanwhile, his daughter is at home, celebrating her new engagement to her girlfriend. How will Wen-de face the challenge of modern views on love?
導演介紹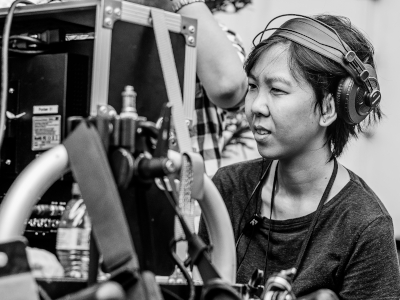 梁秀紅 Chris LEONG
梁秀紅,1984年出生於馬來西亞吉隆坡,畢業於臺灣藝術大學電影學系。身兼導演、編劇,2017 年以《盲口》入圍金馬獎最佳劇情短片。
Chris LEONG is a director and screenwriter born in 1984 in Kuala Lumpur, Malaysia. A graduate of the Department of Motion Picture of National Taiwan University of Arts, he made the short film Blind Mouth, which was nominated for Best Live Action Short Film at the 2017 Golden Horse Awards.